PFAS in the Nordic environment – a Pandoras box?
The levels of new and unknown PFAS in Nordic environmental samples may surpass those we are currently monitoring.
Per- and polyfluoroalkyl substances (PFAS) is a large class of substances that has become an environmental problem due to extreme persistence and potential toxic effects in biota and humans. While more than 4 000 man-made PFAS are estimated to be in circulation on the global market, the environmental distribution of most of these is poorly understood. The Joint Nordic Screening Group therefore commissioned University of Örebro to perform a chemical screening of an extensive list of conventional and emerging PFAS in the Nordic environment. For this screening, the researchers included methodology to quantify total extractable organic fluorine (EOF). This enables an overview of the total concentration of PFAS, including the substances researchers currently are not able to identify. The results provide a strong indication that the amount of new and non-identified PFAS may surpass the sum of the most common PFAS known today.
Analyses of environmental samples such as bird eggs, fish, marine mammals, terrestrial mammals, surface water, air, WWTP effluents and sludge, showed that the analysis of specific PFASs could explain between 2% and 102% of the measured EOF. The average explanation degree for detected samples can be seen in the graph below along with the range explanation degree for each type of sample.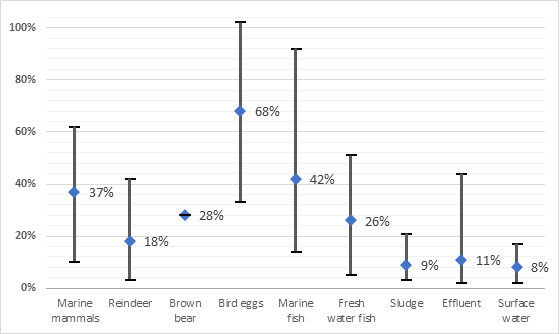 Shorter chain PFASs with carbon chain lengths of 2-4 were frequently detected in surface water and WWTP effluent. Although having low bioaccumulation potential, they may well be as persistent as their longer chain homologues, and their long-term effects on the environment and humans are unknown. Furthermore, so-called precursor compounds, which are compounds that by degradations end up as PFASs, contributed to the total PFASs, and were frequently detected in many matrices.
The results clearly demonstrate the need to include more PFAS classes in environmental assessments in order to qualify discussions or regulatory discussions aiming at reducing PFAS exposure sources. Moreover, the high quantity of non-identified PFAS in environmental samples may represent a Pandoras box, which needs to be elucidated to further assess environmental and human health risks.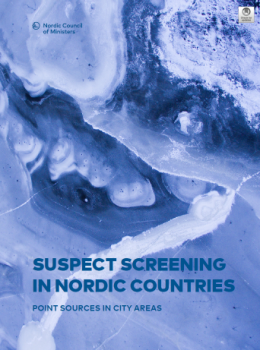 In cooperation with the Nordic Chemical Group and the Marine Group(HAV). CityLeaks, a Nordic seminar on environmental contaminants originating in urban areas. The seminar will take place from lunch to lunch on 8-9 October 2018 in Malmö, Sweden (Hotel Garden)
https://ligula.se/profilhotels/hotel-garden/
The overarching goal for the seminar is to exchange information on emerging contaminants leaking from urban environment. Presentations by invited speakers will be given under the following four section headings:

New Report: Suspect screening in Nordic countries – Point sources in city areas


Authors: Martin Schlabach, Peter Haglund, Malcolm Reid, Pawel Rostkowski, Cathrin Veenaas, Kine Bæk and Bert van Bavel

Publisher: © Nordic Council of Ministers 2017

"Suspect screening in Nordic countries – Point sources in city areas" summarises the findings of new pollutants in a survey commissioned by the Nordic Screening group (nordicscreening.org). The analyses were done by a consortium of Nordic laboratories, consisting of NILU-Norwegian Institute for Air Research, Norwegian Institute for Water Research (NIVA), and Umeå University Department of Chemistry.

The report is available for free download at http://norden.diva-portal.org/smash/record.jsf?pid=diva2%3A1152699&dswid=-6271

The study was done as 'suspect screening' which is based on a technique where environmental pollutants are identified without a preceding selection of the compounds of interest. This technique was used in order to discover pollutants of emerging environmental concern in the Nordic environment which we might have overlooked until now. The study included suspect screening analysis of effluent water sample from wastewater lines, in each Nordic country. In addition, sediment and fish from wastewater receiving water bodies were analysed.

Numerous industrial additives were found in sediment, water and fish samples. These were for instance phenols, UV-stabilizers, antioxidants, and plasticizers of the phthalate-type. Also a benzothiazole compound (2-methylthiobenzothiazole, MTBT, CAS: 615-22-5) was frequently found in all sample types and in high concentrations. 2-Methylthiobenzothiazole is a degradation product of mercaptobenzothiazol (MBT, CAS: 149-30-4), which is used in vulcanization of rubber. MTBT has earlier been detected in other screening studies in water and other abiotic samples, however, to our best knowledge not yet in marine biota.
Reports